Shenzhen Bolinia Technology Co., Ltd. belongs to Bolinia Enterprise (Hong Kong) Co., Ltd., located in Longgang, Shenzhen City. It is a manufacturer for 7-32 inch LCD Monitors , displays and all in one touch pcs since 2004. Rely on high-tech industries of Shenzhen, our factory do research, design and production of display terminal devices independently. With the core of high-tech, we insist on corporate life philosophy of high quality and attentive service. With Hong Kong our window to the outside world, we establish global sales channels combined with a diversified e-commerce platform. At the same time, learning the top technology ideas to improve the competitiveness of our products, we offer customers with high quality, high experience and high value services. Reliable quality used in Olympic Games.
Product ranges from plastic monitor, Metal Monitor , Resistive Touch Monitor, Capacitive Touch Monitor, Open Frame Monitor, High Brightness Monitor, Embedded Monitor to SDI Broadcasting Monitor. Square monitor or wide screen monitors are available with different resolutions.
Normal plastic or metal monitor from 7 inch to 22 inch.
Single Touch Monitor with resistive 4 wire and 5 wire for options from 7 inch to 22 inch.
Multi-touch projected capacitive touch ( PCAP Touch or PCT) monitor with metal case from 8 inch to 24 inch and plastic case from 10.1 inch to 32 inch.
SDI monitor from 15 inch to 21.5 inch.
Mirror Image Monitor from 10 inch to 22 inch.
High brightness monitor from 12.1 inch to 22 inch.
All in One Touch PC from 10.1 inch to 32 inch.
Portable monitor with sizes 12.5 inch , 13.3 inch and 15.6 inch.

Products mainly used in ATM, POS Display , CCTV security, Information checking terminal, Kiosks, BGA repairing station, Lottery terminals, teleprompters, microscopes, Laser engraving equipment, Laser marking machine, the rocker camera security, video surveillance, POS cash register system and similar applications.
Portable monitors perfectly compatible to PS4/PS3/PS2/Xbox ONE/Xbox 360, game consoles, PCs, Macs, Raspberry Pi, laptops, cameras and tablets.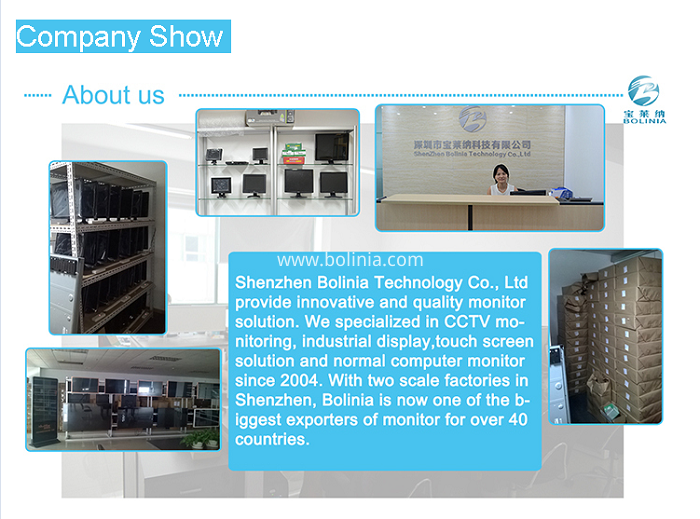 Main products:
Plastic monitor